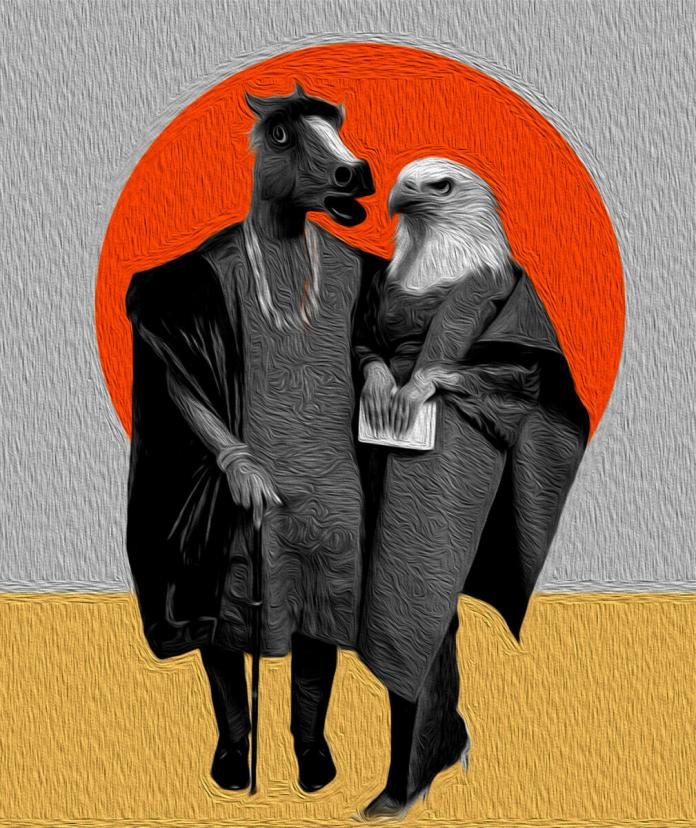 Adedeji Akinkunmi is a digital artist who was born and raised in Nigeria before moving to the United Kingdom to pursue his master's degree. Adedeji fell in love with digital arts while pursuing his first degree in computer science at Ajayi Crowther University in Nigeria. He then joined a group of young digital artists to learn the craft's techniques. Soon after, he became fascinated with surrealism and the ability to create an alternate reality through digital means.
Adedeji creates juxtaposition effects with images of animals and humans. The goal is to elicit a reaction and deep thought in the minds of its viewers.
The artist, grounds the painting with a setting through clothing. The attires maintain a certain traditional charm; it is African, it is yoruba.
Subjects within the works wear different yoruba clothing styles. The male figures wear Agbada, buba, shoro. The women wear Aso-oke, which represents womanhood.  Another image, simply titled 'Portrait' shows a goat wearing iro and buba, she completes her look with an irukere (horsetail). This shows power, and influence. There is strength in this painting.