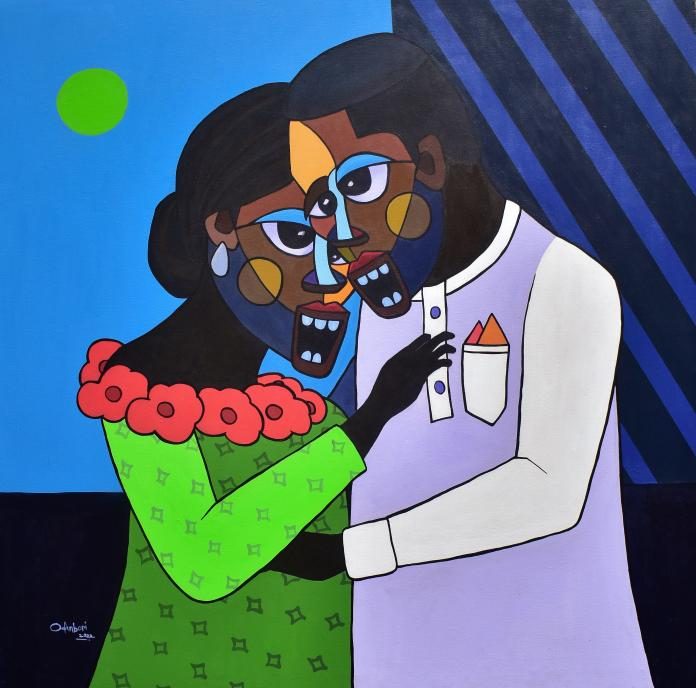 Olalekan Odunbori was born and raised in Ota, Ogun State, Nigeria. He discovered he could draw while he was in primary four and then decided to take this passion further by studying Fine Art at Yaba College of Technology for his tertiary education. He majored in painting and graduated in 2012. He favored Acrylic on canvas; however, it took Lekan a bit longer to find a style that allowed him to express himself fully. In 2017, Olalekan attended Art X Lagos, the in West Africa, and encountered Patrick Akpojotor's works which resonated with him. Patrick's work blends abstraction with Cubism, using pastel shades and texture in a way that draws you in because they're tame to the eye. The Cubism style was popularized in 1906 by Pablo Picasso and George Braque to show multiple perspectives of single objects and create strong impressions.
Olalekan resonated with these paintings and then adopted Cubism as his style creating various works of art that show his evolution over time. A notable example is the "Save Our Planet" project, a series that challenges industrial complexes using elements like pollution, transportation, and city planning as vehicles. The backgrounds have single solid colors, while the figures within the paintings are mostly monochrome. One of them has a young boy holding up a burning trash can that pushes smoke from the top and bottom: into the subject's mouth and the atmosphere. According to Ola, Save Our Planet" is his "response to the problem of global warming and environmental pollution" He was moved to making this after reading a report from WHO on how it contributes to yearly premature deaths. The "Save Our Planet" paintings can also be interpreted as a metaphor for how we engage the current capitalist landscape. As it destroys our environment, it also shapes the way we speak and process events around us. Garbage In, Garbage Out.
Lekan uses Cubism to express himself from an African perspective. His colors are bold; they jump at you. He leaves clues of his past in his art as elements within the works carry memorabilia he must have experienced during childhood. A particular painting, "Igbasile (The Rescue), " shows a young man reading Alawiiye, a Yoruba textbook found in secondary school curriculums across the Western part of Nigeria. Written by J.F Odunjo, Alawiiye tries to instill moralist values that align with the Yoruba "omoluabi" ideology. Omoluabi emphasizes manners and respect for elders within Yoruba culture. The Yoruba greetings: kneeling and prostration are subsets of this. He adds personal commentary within this painting as the subject has a padlock in his tongue, reflecting a certain suppression of speech that comes with the modern political climate.
Lekan expresses interest in exploring black subjects and vintage damask patterns, seeing this as a way to reinvent the old in a new light. He also uses it to celebrates and explores the relationship between the triumphs and trials of Africans in a contemporary style.