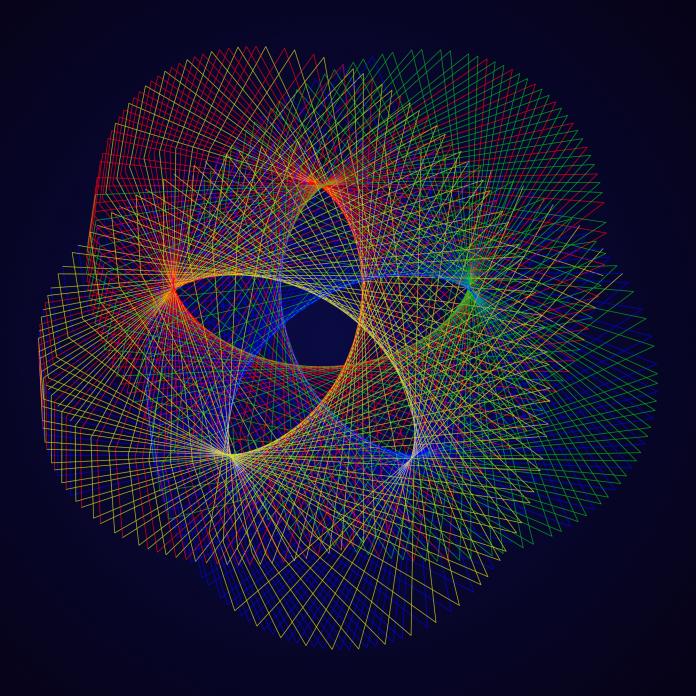 I create "art in 1000 straight lines" where math and art meet. My colorful works are said to be meditative and calming. Also, I have a great story – I've come back to the path I didn't take in my youth (the artistic road). My bigger aim is to inspire people that it's never too late to create. My first exhibition was at the NY ART EXPO this past April, and my work was accepted for exhibition at the Gracie Square Art Show in September. I sold my work at both shows.
A little about me. My refugee parents and I emigrated to the US in the 60's. I struggled to speak English, but I spoke the language of math and I was talented in art. In high school, I was invited to participate in an NYU program that introduced young talent to computers. I had the opportunity to use the most powerful computers of the time. I discovered a plotter and programmed it to draw what came to be 1000 straight lines through simple mathematical formulas to form plotted art. These lines reminded me of the Islamic architecture I had seen as a child.
After recently finding old samples of the plots I created years before, I was inspired to restart the 1000 straight-line project. However, I found that computers, screens, and software radically changed. I needed help to recreate my art and got it. This year was my reintroduction into the art world. After trying different media, I decided that printing on metal was the best option.
While all the lines are straight, there is an illusion that they twist and turn. People often insist that "the lines are curved", or they can't be sure that every image is made with 1000 lines. Although these works are more complex, nearly all people have a smile of recognition from playing with Spirograph in their youth.
I truly enjoy creating art, choosing colors, and sharing my process with admirers. This art is completely different in the realm of geometrical abstraction. I can't wait to share this work with the world. Because I control the colors, and I have no size limits, I can customize the work. It lends itself easily to consignments.
© Danny Jiji, Artist Biography & Artworks | danjijiart.com/