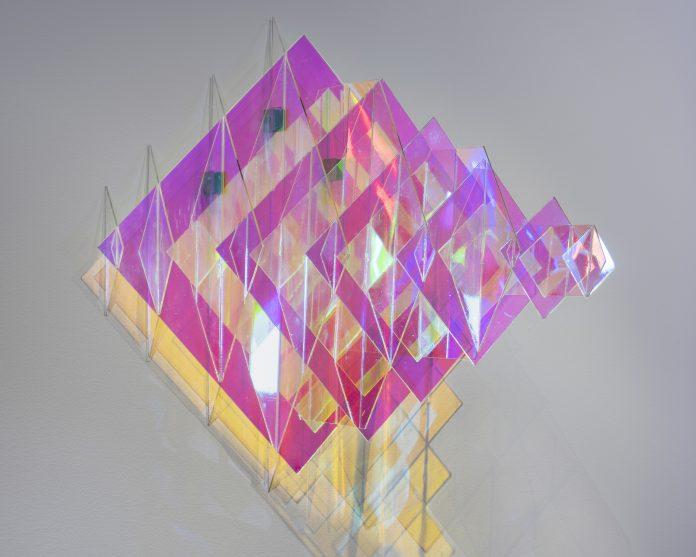 *Barak Chamo: Sheer Appearances* offers an illuminating overview of recent works which have been created during Chamo's years of stimulating discoveries at NYU's Interactive Telecommunications Program (ITP). The experimental development of his work has taken a more profound form during his recent residency program at the Studios at MASS MoCA.
Filling the space at the 23rd street storefront gallery, the four major themes of the exhibition compress kinetic objects, floating 3D modeled structures and unorthodox paintings. The material surfaces are distracted by the tactical use of technology, with a particular focus on the making, the representation and the potential perception of the digital moving image.
Each project grows out of a period of analytic research of both the materiality of light and human perception as a way of behavior in dialogue with our non-human kin. In the exhibition, the subjective experience of light through the repurposed digital displays indicates a different understanding of the often mystified nature of the digital image itself. These experiments are here to challenge factors of endogenous characteristics of the human system (individual, community, society and ecology). A fictional assessment of our interaction with technology aiming to identify the different elements that contribute to a human system's vulnerability—what the artist explains as "small moments of impression and observation [which] are the ones that stay with me through life as lasting inspirations. The changing gradations of the sunset, the shifting formations of clouds, the speed of the bullet train as it cuts through the countryside. I wanted to distill this experience, the essence of color, scale and speed."
The present works appear as assessments of human interaction with technology and reevaluate this fragile relationship under extreme tactile conditions. The urgency to bring fundamental shift of perspective echoes somehow contemporary issues related to human hacking in "surveillance capitalism." For his solo presentation, Barak Chamo provides the translation of complex theoretical deliberations into spatial work that not only appeals to people rationally but also touches them emotionally and moves them towards the recognition of our collective, human vulnerabilities.
© Barak Chamo | Artist Biography, Artworks & Gallery | barakchamo.com/sheer-appearances